Keeping watch on developments in New Barnet
News
17th April 2013
A newsletter, dated 17th April, has been emailed to campaign supporters.
19th January 2013
Spen Hill have launched a 'New Barnet Project' website which includes artists impressions of their residential development plans.
17th January 2013
Spen Hill publish an advert in the Barnet Press & Barnet Times, inviting residents to an exhibition of plans for residential development of the OpTex site.

16th January 2013
Spen Hill Developments Ltd (a wholly owned subsidiary of Tesco) are holding an exhibition of their plans for residential development on three sites in New Barnet - OpTex site in Victoria Road, 15 East Barnet Road, and 7-11 Victoria Road.
The exhibition is being held at the Salvation Army Hall, Albert Road, New Barnet, EN4 9SH
Wednesday 23rd January 2013 from 12-8pm
Thursday 24th January 2013 from 12-8pm
15th January 2013
A newsletter, dated 15th January, has been emailed to campaign supporters.
14th October 2012
A newsletter, dated 14th October, has been emailed to campaign supporters.
11th October 2012
Spen Hill deliver a leaflet to homes surrounding OpTex site in Victoria Road advising of forthcoming demolition works.

14th March 2012
A newsletter, dated 14th March, has been emailed to campaign supporters.
29th January 2012
A newsletter, dated 29th January, has been emailed to campaign supporters.
2nd December 2010
Local Press Coverage - New Barnet Town Centre Framework

Are you on our email list?
We send out newsletters via email to keep residents informed of developments in New Barnet and how you can take action. Sign up to receive your copy using the box in the right hand column, or send us an email.
New Barnet Town Centre Framework
Consultants working on behalf of Barnet Council drew up outline proposals for the future of the main shopping area in New Barnet during 2009. Public consultation on a draft version of the document took place during February and March 2010.
A final version was approved by Barnet Council on 29th November 2010. It is available for downloaded from the Council's website.
Supermarket Planning Applications - Current Status
A planning application from ASDA was registered by Barnet Council on 16th February 2009. The application was due to be decided at Barnet's Planning and Environment Committee on 1st July 2009, but ASDA withdrew their plans on 30th June 2009.
There is NO current planning application for the gasworks site.
Tesco have NOT applied for planning permission for their original or revised 'regeneration' schemes.
In mid 2012 it became known that Spen Hill (a wholly owned subsidiary of Tesco) was formulating plans for a residential development on the OpTex site.
Following an appeal to the planning inspectorate, Tesco were granted permission to build a Tesco Express at 7-11 Victoria Road on 7th April 2009. Tesco have not progressed this development and the planning permission has now expired.
Alternative Plan for the Gasworks Site
Despite ASDA and Tesco's attempts to brand us as a bunch of "NIMBYs", the Save New Barnet Campaign is far from "anti-development". Indeed, we're keener than most to see redundant sites in our local area brought back into use. However, we are determined to oppose any development which is inappropriate in terms of scale, design and use. After all, it is us and our community that will have to live with the effects of these projects long after the developers have moved on.
The kind of large-scale, multi-storey development that ASDA and Tesco are proposing is grossly inappropriate in a largely residential suburb like New Barnet, which is characterised by two or three storey buildings on a Victorian and Edwardian road network, and within a few hundred metres of the Green Belt.
We also know that it's not what local people want, because we've spent the last year asking their opinion for our community's "Vision For New Barnet". Amongst the hundreds of views, two things that came up again and again were "family houses" and "leisure facilities".
So, using the "Vision" as a guide, we commissioned some local architects to propose an alternative solution for the derelict gasworks site. The result is an inspiring plan that is grounded in commercial reality, but which makes the most of the site's potential and meets the real needs of our local community.
Take a look at the alternative plans: (click pictures to enlarge)
Integrated Development and Park Master Plan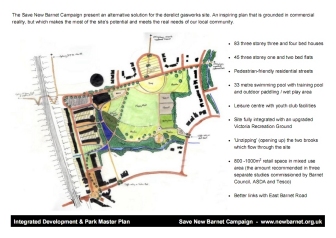 Integrated Development and Park Master Plan
83 three storey three- and four-bed houses
45 three storey one- and two-bed flats
Pedestrian-friendly residential streets
33 metre swimming pool with training pool and outdoor paddling/wet play area
Leisure centre with youth club facilities
Site fully integrated with an upgraded Victoria Recreation Ground
'Unzipping' (opening up) the two brooks which flow through the site
800-1000 sq. m. retail space in mixed use area (the amount recommended in three separate studies commissioned by Barnet Council, ASDA and Tesco)
Better links with East Barnet Road
Integrated Development and Park Master Plan [188K pdf] - Mar 2009
Background
In January 2008, Tesco announced plans for a 'Town Centre Regeneration Scheme' in New Barnet. This was in addition to ASDA's long expected development plans at the neighbouring gasworks site in Albert Road. The Save New Barnet Campaign was formed in response to these development plans.
In addition to these plans for two major supermarket developments, Tesco also have permission for a Tesco Express store in front of the gasworks site on Victoria Road.
The campaign has organised a number of events and commissioned research into local opinion. A Vision For New Barnet suggests what the local residents would like to see happen to improve New Barnet.
On this website you will find an archive of documents, including press coverage, related to the planned development schemes. The latest info is on the news page and the action section contains contacts to express your opinion.
What can I do?
Sign Up
Let us have your email address and we will keep you informed about local developments. We will let you know when Tesco & ASDA submit planning applications, when & where to send your vital letters of objection, and other campaigning activities.
Sign up using the box in the right hand column.

Show Your Support
Download and print a poster to display in your window.
A selection of posters can be found in the publicity section.
Write to the local newspapers and tell them about your concerns with the two development proposals.
Visit the action pages for more ideas, hints, tips and contacts.
Speak up for your local community!
Save New Barnet from superstore suffocation
say NO to the destruction of the heart of New Barnet
say NO to traffic gridlock, noise & pollution
say NO to squeezing out independent shops & businesses
say NO to hundreds more flats
say NO to a characterless 'Tescoville' or 'Asda Anytown'
Save New Barnet Campaign is a non-political group of local residents fighting for a better New Barnet. The group seeks to inform the local community about potential changes to the area, and oppose inappropriate developments. The group aims to promote a clear vision for how New Barnet could be developed for the benefit of the community based on the views of local people.
The Save New Barnet campaign is funded entirely by donations from individuals. It is not bankrolled by any company or commercial organisation.